1:1 Practitioner assisted stretch treatment
Assisted Stretching does more than just deepen the basic stretch. With a practitioner assisted stretch a greater number of muscles can be more effectively stretched and trained through all their planes of movement.
Special Offer: 10 packs are available for purchase where 1 complimentary treatment of equal value will be gifted to you or a friend.
Includes movement screening and assisted stretch. 60 minute duration.
$130
25 Minute Kids (Under 13)

Treatment
$50.00
$50.00
More BENEFITS of Stretching
Assisted stretching has countless benefits and is a health treatment used by sporting professionals to maintain and enhance their performance. For individuals who have a more sedentary lifestyle stretching can complement a healthy diet and regular exercise by reducing the possibility of injuries and aiding to prevent the long-term health impact of our sedentary lifestyles.
Our clients love us and you will too.

ANJA STRIDSMAN
Sporting Professional
Going to the stretch lab is a gift to my body, where I ask for help where I sometimes fail to perform myself. Being an elite athlete, the health of my body is essential. Without it I cannot perform to the best of my ability. Stretching so easily becomes an after thought or a reaction rather than a precaution. We so easily get lost among the intense focus and exhaustion of everything else. At the stretch lab they listen to my body, even when I fail to. Whether it's tight or sore, better or worse than last week. They help my muscles and joints, leaving me better off than before, allowing me to do all the things that I want to do. Whether it's pursuing my goals as an elite athlete, or playing at learning new acrobatic skills.
ANDREW SORENSON
Businessman
About a year ago I was looking for alternative therapy's to treat a progressive back injury. With no idea about anything I thought I would start with some professional help with stretching. A quick google search produced the Stretchlab at Terrigal. It was a new business and located over 1hr drive from my hometown, but I thought I would take a risk and check it out. My first session was interesting having never been subjected to assisted stretching before in my life. My initial intention being to learn how to do this myself was soon cast to the side with the realisation that it is impossible to get the same benefit solo. After 3 sessions I was starting to feel much better in my lower back, with my over bearing hamstrings starting to yield and reducing the strain on my lower back.

EDDIE WILLIAMS
Southern Hemisphere Strongest
It was seriously the best decision going to stretch lab for multiple reasons; they're truthful to the moto release restore recover and every time I've been in I've had the most relaxing experience. Hana and Nat have heaps of wisdom on natural body movement so if something's giving you a hard time with your bio mechanics the ladies will show you exercises and stretches to help your body to get back in its normal position. I highly recommend you try out THE STRETCH LAB I hold it just as high as my training it has become a part of my routine with training and a highlight every week.

DR ASH BOWDEN
Health Professional
The Stretch Lab is a wonderful local business that have encouraged health and wellness through and alongside their work Hana and Nat both offer fantastic consultations for which I've felt relaxed and energised after - perfect given the first time I had a stretch was after a night shift. Thanks I absolutely love the work they do at The Stretch Lab and the support to athletes, trainers and other local businesses. I'm forever telling people to go there!

DR VICKI CHASE
Health Professional
Having experienced several injuries over the past few years I realise that to maintain an active lifestyle I need to improve my strength and flexibility. Regularly attending The Stretch Lab has been pivotal in achieving this. Nat and Hana's expertise along with their passion and enthusiasm ensure that they provide an amazing service. I highly recommend The Stretch Lab to anyone wanting to improve their health, well being and quality of life.
NICOLAS KAREM
Businessman
One of the best places if not the only place where stretch and massage for athletes, or chronic pains due to injury are taken to another level of care. Clean, modern, relevant and relaxing atmosphere. Where and when you realise that your body is more powerful than you think and needs to be challenged more than you imagined.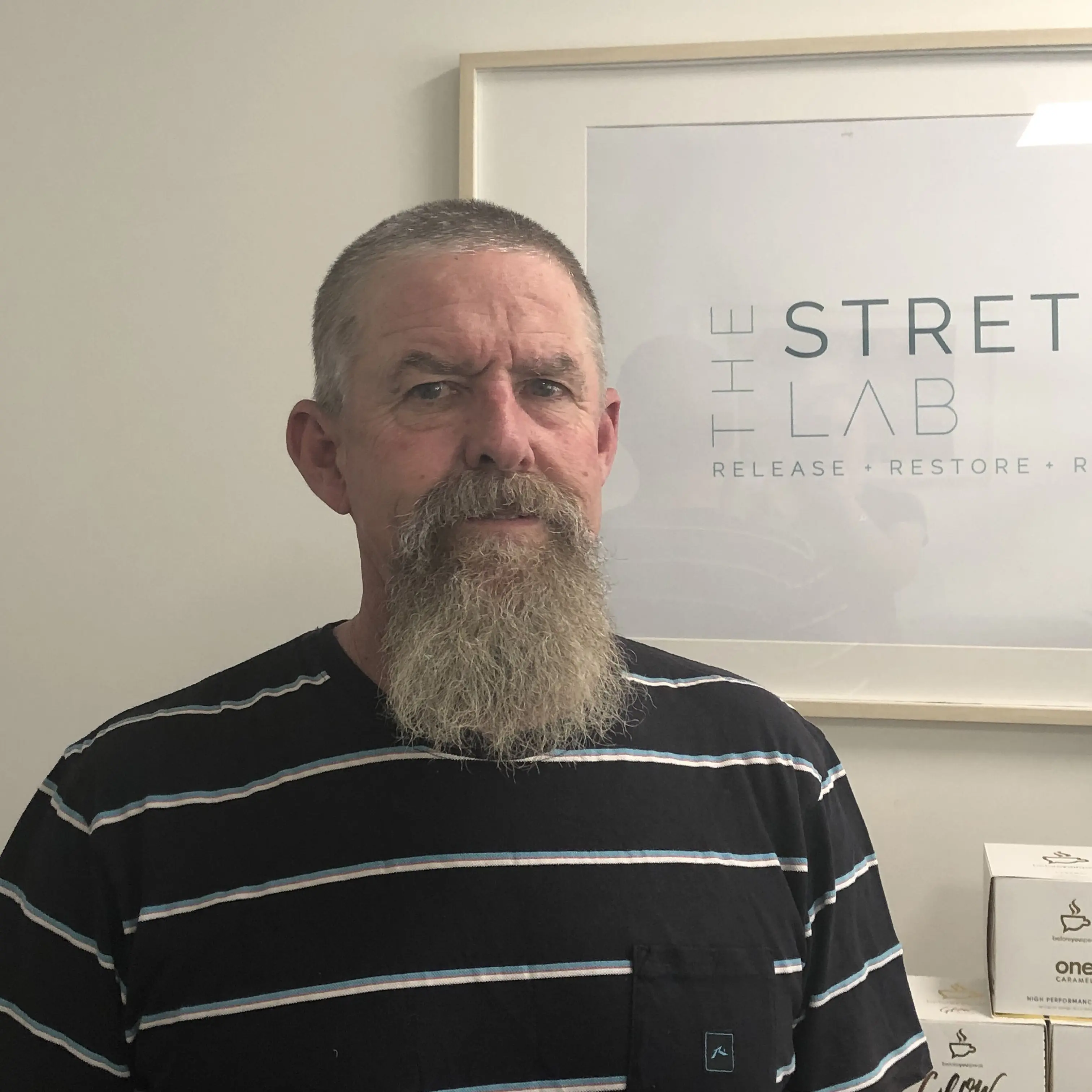 DAVID COLLETT
Construction Industry
I am 58 year old male with a work history of 35+ years as a plumbing contractor. During this time I developed long term muscular back issues that I was not able to resolve with on going treatments and regular exercise. This impacted on my everyday activities. My wife Susan ran into this lovely lady Nat who runs a practice to help people like me. It's called "The Stretch Lab" located in Terrigal. I have had six sessions so far and Nat has changed my life. I am now able to do tasks such as put on my socks. I am well on my way to pain free movement.